In the Press Room, you'll find presentation rates, photo downloads, news releasesand articles by Trainer, Speed Coach, Author, Motivational Speaker, Consultant, Phil Campbell, M.S., M.A.
"On a cold wintry day this past January Phil Campbell was the keynote presenter and a workshop leader for our first "Wellness Day". This day was designed to provide over 400 staff members with the opportunity to attend a variety of programs examining wellness, nutrition and healthy lifestyles. He was fantastic! He connects with his audience and inspires through his words. We look forward to his return to Governor Mifflin School District." - Rick Wolf **(Results may vary)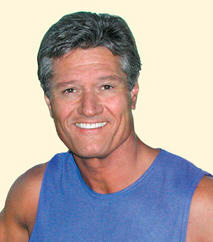 How to book Phil Campbell for a "Fitness for a Lifetime" presentation

Email Phil Campbell at info@readysetgofitness.com for open dates
Speaking fee $2,500 per day and reasonable travel expenses
Special rates are available for consecutive days for large employers that want
Phil Campbell to reduce healthcare costs by inspiring employees to get fit.
---
Press Materials

Articles by Phil Campbell
Sprint Cardio

Smart Training Sprint 8
Phil Campbell E-Lifts
Science Behind Stretching
Training Abs
Training Triceps
Sprint 8 Ms Fitness
World Record Advise
Training Hamstrings

Truth About Exercise . . .
What the infomercials don't tell you here

Cover photo downloads click photo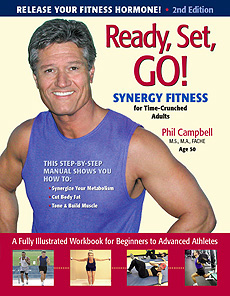 Additional cover sizes downloads here
Photo downloads from book
---
News Releases
Truth About exercise - what the infomercials don't tell you
Celebrities Spend Thousands Buying Youth
Cure for the Middle-Age Spread
The Ultimate Baby-Boomer Bummer
How NFL Players Play well in Middle-Age
Why Everyone Over 50 Should be Training
for the Senior Games
For additional information call toll free (855) 877-4040
or e-mail Pristine Publishers

---

Newsletter Topics
Don't miss the Free sign-up for the Ready Set Go Fitness newsletter here