Researchers show that high-intensity, anaerobic fitness training makes the body produce anti-aging, anti-MIDDLE-aging, athletic performance improving growth hormone NATURALLY, (Impact of acute exercise intensity on pulsatile growth hormone release in men, 2000, Pritzlaff).
All Five Levels of the Ready Set GO Fitness program have a version of the Sprint 8 Workout based on age, conditioning, and training experience. This workout is perfect for time-crunched adults because it only takes 20-minutes.
In the truest form, the Sprint 8 Workout means you progressively run 8 sprints for 60 meters (70 yards) in 8 – 15 seconds with a 1.5 to 2 minute walk-back recovery between the sprints. Running is just one of the ways you can perform the Sprint 8 Workout.


Injury Prevention
It's important to spend at least 6 to 8 weeks progressively building up to the Sprint 8 Workout, and warm-up before every workout, (details are in Accelerating Growth Hormone with Anaerobics, Chapter 8, Ready, Set, GO! Synergy Fitness). And it's always a good idea to obtain physician clearance prior to beginning a fitness program.
THERE ARE MANY WAYS to accomplish the Sprint 8 Workout. Dr. Steve Kail and many others, report that the recumbent bike is a great way for those with bad knees to do the Sprint 8 Workout. It's a good idea to pedal for 2 minutes to get your rhythm and warm-up prior to the first sprint. Then sprint/pedal hard for 20 - 30 seconds with 1.5 – 2 minutes slow-pedal recovery between the 8 sprints.
Swimming, biking, XC skiing, even power-walking up an elevated driveway will do the job, if it will get you winded. There are many ways to perform the Sprint 8 Workout.


The Take Home
To get the synergistic benefits offered by exercise-induced growth hormone, it takes high-intensity anaerobic fitness training. If you have bad knees, there should be a way to perform the Sprint 8 Workout. Be creative!
Have a great day!
Phil Campbell, M.S., M.A.
Author Ready, Set, GO! Synergy Fitness
---
If you need a laugh and have 8 seconds to download a 30 second video, check out: "how NOT to sprint on a treadmill"


broadband


dial-up


National Institutes of Health research cited in newsletter,
Research Summary
Research Summary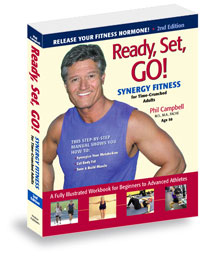 Ready, Set, GO! Synergy Fitness - 2nd Edition

The comprehensive fitness training guide, 368-pages,
300 photo-illustrations,
$19.95

Ordering information here

Toll Free- 1 (866) 565-3311