Just in from the UK
"This is an excellent book for anyone wanting to improve their fitness levels from athletes to those, like me, looking to reverse the ageing process. The preamble gives an excellent guide to how hormones are so important to how we feel and perform and can be used as a building block for improving fitness and energy levels. These simple explanations are backed by scientific studies and in turn this knowledge is used by Campbell to construct a comprehensive programme designed to stimulate the generation of Human Growth Hormone by a series of exercises. The book is readable and the exercises and tips are designed to provide you with maximum benefits whilst also being a source of encouragement.
Forget the diet books and buy this if you want to get improved results from understanding what is happening to your body.
This is an American author so the understanding on hormones etc is way ahead of us here in the UK but it is well explained and easily understood.
No doubt the video / CD will follow in due course." - Richard M. Cattrell*, Leicester UK **(Results may vary)
See Phil Campbell interviewed about Sprint 8 cardio
on Colorado & Company Denver Channel 9 here (windows media player)
"I first read about your program in Outside magazine. I had been running, but hadn't had any of the benefits I expected from running. My tone wasn't improving, my weight stayed the same. When I read the Outside article, I immediately checked the book out from the library to learn more, then bought my own copy. I can tell a big difference in my energy and in my engagement with life, in addition to better muscle tone, endurance, speed, and weight loss. Thanks for your wonderful plan." - Karen Minton **(Results may vary)
Marlon McCree, Safety Denver Broncos

strength training at

24 Hour Fitness

Denver after speed technique training on the track with Phil Campbell





Marlon McCree using speed to make big playsin post season for the 2007 San Diego Chargers

From Home Fitness Dealership Manager
"I have to tell you that Sprint 8 has been GREAT for me. I bought a Vision Fitness recumbent and have been using it religiously since then. Sprint 8 is now a part of my lifestyle. I do Sprints 8 every other day without fail, and it feels great. I can see the results I am leaner than I've been in a while, have more energy, and just feel better in general. THANK YOU so much!!!!
- Yvonne Blake*, Arizona Health, L.L.C.**(Results may vary)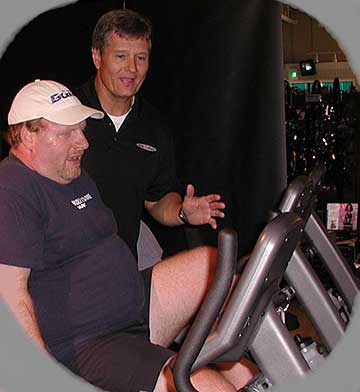 Paul Crimmins, BGI Fitness, Indianapolis, demonstrating Sprint 8 - signature cardio program in Phil Campbell's book now featured on award-winning Vision Fitness home cardio units


From a Nutrition Consultant, Personal Trainer & Lifestyle Coach
**(Results may vary)
"I had an injury that sidelined me for a month. Although I was in good shape before, I gained a little weight and lost a lot of muscle tone during that time. When I was able to get back to the gym, I was running 7 to 10 miles a day and eating an absolutely perfect diet. Despite all my efforts, I couldn't seem to make any progress with getting back to my original size and weight. It was very frustrating for me since I was working so hard to do everything right. What was once easy for me was now very difficult and I could empathize with my clients who have trouble losing weight.
After reading your book, I immediately put your advice into practice with amazing results. After only 8 times of doing the sprint 8 workout (over a 2 week period) I discovered that I had lost 10 1/2 inches overall and dropped about 7 pounds. I know it probably sounds hard for some people to believe. I wouldn't believe it myself if it hadn't happened to me. But now I'm back in my size 3's and 4's and feeling terrific.
But even more than that, I have more energy and endurance than I could imagine. Before Sprint 8, I was running 8 to 10 minute miles. I'm now comfortably running 6 minute miles! I even ran a 5 minute 13 second mile yesterday at the end of my workout!!!I'm so impressed with the results that I'm now recommending your book and program to all my clients. This program really works and it works fast!
Tonya Patterson*, Nutrition Consultant, Personal Trainer & Lifestyle Coach

Sarah Harding, Ms. Fitness USA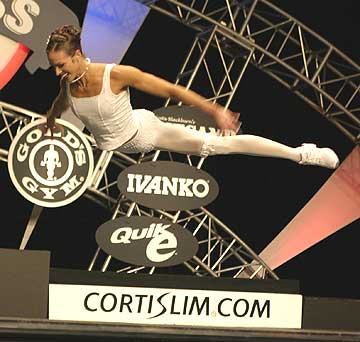 Sarah Harding photograph by Sami Vaskola
"As a professional acrobat and All-American gymnast, I was excited to learn so many new tips on health and fitness at Greta Blackburn's Fit Camp. I especially loved reading guest speaker, Phil Campbell's book, Ready, Set, GO! Fitness.
The Sprint 8 workouts are extremely efficient and beneficial to any athlete. They supplement my training and helped me get in the best shape of my life. I highly recommend Sprint 8 to anyone who wants to look and feel younger. The best part about it is the workouts are so efficient. You don't have to spend hours in the gym. You just have to challenge yourself to get faster. I love the fact that I can set new goals and feel younger with every stride!" - Sarah Harding*, Ms. Fitness USA 2006 www.sarahhardingfitness.com **(Results may vary)

"Thank you for helping me achieve a level of fitness that I was beginning to think was unattainable. I am elated that I am able to participate with my four growing kids (6yrs, 8yrs, 11yrs, and 12yrs) in their athletic adventures; Tri-athlons, gymnastics, running events, etc…You have no idea what level of hope and encouragement that you have given me, and give me daily, with your book, and your reports and articles contained on your web site. I tap into your material often." - Jeff Endrulat*
"Great information. I have used Body-for-life for several years. This book uses research to explain the science and goes further to specify sound approaches. Main enhancements for me were the understanding of fast twitch muscles and how to excercise them for even greater overall fitness results - And natural production of HGH."- Rober Ryder*, Harrisburg P! **(Results may vary)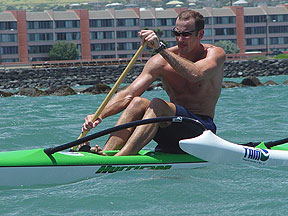 Lee Poston, PT, 6 time defending state champs Hawaiian Canoe
club paddles the Sprint 8 in Kahului, HI

"Phil Campbell in includes a lot of good, solid scientific references to back up his fitness philosophy- basically what to do and what/when to eat in order to maximize your natural growth horomone that promotes muscle gain and fat loss. I found no empty promises or gimmicks. I also like the fact that he included a wide range of "Strategic Fitness Plans" consisting of detailed training regimens (And training logs) tailored to meet anyone at their current fitness level and help them progress from there." - Dan Loffer*, Dallas **(Results may vary)
"This program is fabulous!." - Sally Somerville*, Channel Islands, United Kingdom **(Results may vary)

"If you ever need a testimonial from a guy who had engaged in a corporate culture of eat, drink, smoke and no exercise for years. Someone who smoked cigarettes long enough that he couldn't shower without coughing and who couldn't run 100 yards without panting and heaving, here's mine.
I quit smoking in 2000 by substituting fitness and nutrition for smoking. Initially when the anxiety due to not having a cigarette, I either went for a walk or lifted weights. Later my son recommended your book, "Ready, Set, Go" and I began incorporating the routines. I began the "Sprint 8" routine and noticed an increase in energy and fitness. I then began researching the area and found a lot of research to support the "Sprint 8" routine. I am a believer in short burst of intense physical exercise as a key element in fitness training. My VO 2 max, fitness level, and speed has increased due to Sprint 8's. I'm healthy at a level that I would not have believed 6 years ago.
I have won a 5k, a few state medals and many regional medals and was the " Senior Athlete of the Year" (2006) in the South Central Region( whatever that means). I am not an elite athlete, nor is winning the key thing for me. The competitions, medals etc. are only fun motivators for me. The real benefit is health, fitness, attitude and meeting many wonderful people. I do hope to be at the next Senior Olympic Nationals.
I do plan to do a 500 mile hike across Spain this fall, and I plan to add cycling to my repertoire." - Ed Campbell**(Results may vary)


"Thanks for a great system and wonderful book! I came upon Ready,Set, Go Fitness in a totally backward way. I was researching the Vision Fitness Elliptical Trainer and saw the Sprint 8 feature. Looking further into that, I found your website and your book. I love it!!! I haven't felt this good since High School. And it's such a short amount of time. I have lost 14 pounds in 11 days and can't wait to reach my target of losing 100 pounds! (It has been a long time since I played HS and college football.)" - Carl J. Peterlin, Jr.**(Results may vary)
"I have just finished reading Ready, Set, GO, Synergy Fitness for Time-Crunched Adults and wish to complement you on authoring such a superb book. No fluff, no outrageous claims, just solid material from cover to cover. The material on HGH is very exciting, to say the least." - Renzo Caredda* (results may vary)
| | |
| --- | --- |
| | "As a fitness enthusiast, I love the Sprint 8 workouts! They are time efficient and effective in improving your fitness level. I've had so much energy and it keeps me looking younger. Everyone thinks that I'm still in my 20's, when I'm 37. I strongly recommend Sprint 8 to anyone who wants to lose body fat, get stronger, and improve their health." - Sandy Combs, personal trainer, fitness instructor.**(Results may vary) |
"Phil Campbell's book focuses on Synergy Fitness, ten strategies to help get you in peak condition. His approach is appealing. Each chapter is short and concise, providing detailed information in a casual tone." - Paige Waehner, About.com Exercise Guide **(Results may vary)
"Your knowledge of physiology, biomechanics, and training technique is impressive.
I am most impressed with your application of these principles in what is a
truly remarkable, creative, and innovative way." - Dr. John E Midtling, Professor and Chairman - Dept of Family Medicine, University of Tennessee Memphis**(Results may vary)
"This program is wonderful and Phil is very motivating! We have even added "The Sprint 8" as one of our fitness classes." - Carla Holland*, Dept Administrator, Ingram Wellness Center **(Results may vary)

| | |
| --- | --- |
| Dena Anne Weiner, 43, Fitness America Pageant winner and MS Natural Olympia Fitness uses the Ready Set Go Fitness anaerobic sprint workouts during her training and competition preparation. | |
"My son (a competitive cross country skier) told me about your book and I started the workouts following your basic approach. I am a 62 year old Orthopaedic Surgeon and run for cardiovascular fitness, weight control and enjoyment. The Ready Set Go Fitness program has worked for me. I am running faster, have lost 5 pounds, have less muscle soreness than I had with just doing longer but slower paced runs - and enjoy my workouts much more. I have read a lot on fitness and the growth hormone rationale makes sense. I have shared the book with my brother, a superb 70 year old athlete with a bad knee and it works for him on the bicycle and running up hills. I will keep recommending this approach as an integral part of an overall fitness program." - Rolf Lulloff, MD**(Results may vary)

"I enjoyed the read. This is a very practical book for individuals to stay fit and stay healthy." - Dr. Paul Laursen*, School of Human Movement and Sport Science, Australia (Dr. Laursen is one of the leading Sports Science researchers in the world)**(Results may vary)
"Awesome book! Thank you so much for putting your discovery and research together in a clear, concise and easy to follow book."**(Results may vary)


"I started working out on a Vision Fitness semi-recumbent bike Model R2250 about December 27, 2005 using Phil Campbell's Sprint 8 program. After three months, I found that my cholesterol had decreased significantly. My Total Cholesterol had dropped from 229 mg/dl to 158 mg/dl. My LDL (bad) had dropped from 165 mg/dl to 92 mg/dl.The HDL (good) had a slight rise of 2 mg/dl and the Triglycerides had a slight decrease from 108 mg/dl to 103 mg/dl. This was by doing the Sprint 8's four to five times per week. My doctor, who encouraged me to take on more exercise, was excited about my improvement. Thank You Vision Fitness and Phil Campbell for the improvement in my health.
Jacob(Mac) McClenny, Age 85
Retired Air Force pilot, World War II Veteran **(Results may vary)


"I purchased a copy approximately a year ago, and it has really made a difference in my life. I have lost 18 lbs plus I'm also developing muscle lost after 30 years of no exercise" - Dr. Don Coffey* **(Results may vary)

"A few months ago, my doctor told me I had to make changes in my life. My cholesterol was high at 234, triglycerides were extremely high at 415, and as diabetic my A-1-C was 7.4. My doctor doubled my medication and informed me that my diabetes was affecting my kidneys. So I read Ready, Set, GO! Synergy Fitness and started the Sprint 8. After 4 months on your program, my cholesterol dropped to a normal rate of 141, triglycerides dropped to 276 (a 139 point drop and still dropping), and my A-1-C dropped to 6.4. I look forward to receiving even more amazing results when I return to the doctor after some more Sprint 8 workouts! Your program works!" - Mike*
UPDATE from Mike THREE MONTHS LATER
"I just returned from my doctor's office. After seeing my results continue, my doctor wants to know all about your program so he can do it himself. My cholesterol dropped even more. It's now down to 127 (down from 234). Even though my moderation diet has not changed at all during the last three months, my triglycerides have continued to drop another 100 points and I'm down to 176 (from 415)." - Mike **(Results may vary)

"As a fitness enthusiast, I love the Sprint 8 workouts! They are time efficient and effective in improving your fitness level. I've had so much energy and it keeps me looking younger. Everyone thinks that I'm still in my 20's, when I'm 37. I strongly recommend Sprint 8 to anyone who wants to lose body fat, get stronger, and improve their health." - Sandy Combs*, personal trainer, fitness instructor **(Results may vary)

"At age of 59 and 5' 7", I weighed 194 pounds and had a cholesterol reading of 222. I have always worked out and ran but still it wasn't enough, so I became determined to lose weight and to lower my cholesterol without medication.
I started increasing my workouts and watching my diet. In January 2006, for my 60th birthday my wife bought me a Vision Fitness stationary bike that included your Sprint 8 program. I liked the workout so much I read your book and today, I do the Sprint 8 3 times a week. Now I weigh 155 and my cholesterol down to 155. I owe it to you and a lot of oatmeal (Quaker weight control). Thank you again." - Jack Brooks**(Results may vary)


"Phil Campbell's book, Ready, Set, Go Synergy Fitness is a concise, well researched, practical program for people of all ages. After following the level 2 program for 8 weeks, my total cholesterol dropped from 221 to 157, and my LDL (bad cholesterol) dropped from 155 to 95. In addition my body fat percentage has dropped. My two teenage boys and I have noticed that our endurance and strength have increased substantially. My patients as well as my family and I have found his book, along with the Internet based aids to be a straightforward program that is easy to follow. Because of it's principle based teaching and structured guidelines, I highly recommend this book to my patients, and they receive reproducible results.
- Chet Gentry*, MD, Family Physician (Former state champion in freestyle wrestling **(Results may vary)
"Your book is a bible of health/fitness knowledge, thank you for taking the time to write it. You did an excellent job on format/layout of the book and the large lettering lets me read with ease while on the treadmill or bike. Thanks. Happy Trails," - Becky Collman*, spin instructor **(Results may vary)
"I read the book twice and love the illustrations, the motivation, and the research that you share. I read lots of books on exercise, nutrition, and diabetes in particular. Your book is at the top of my motivational reading. It is incredibly balanced! Thanks!" - Darrell Denman*, WI **(Results may vary)
"I now have more energy and I find it easier to keep my body fat percentage where I like it. I have high standards for myself and 'Ready, Set, GO! is helping me reach them." - Annie Swider*, fitness model **(Results may vary)
"After not quite 3 months on your program, I've now burned about 19 pounds of fat, added about 4 pounds of muscle, and cut body fat by almost 6 percent. I'm tremendously grateful for your insights and am turning friends on to your book and ideas at every opportunity. I had a complete physical this morning and even my doctor was impressed. My cholesterol dropped 70 points (to 207 since my last test 2 years ago!!) I am stronger than I've ever been in my life and fitter than I've been in at least a decade. At age 44, I feel like I've made an effective commitment to good health and fitness for the rest of my life." - Terry Bazyluk*, Writer/Lawyer, Maryland **(Results may vary)
"Ready, Set, GO! Synergy Fitness is a practical, science-based fitness plan anyone can use to lose weight. Phil Campbell's book is an easy-to-use, step-by-step plan for anyone. I highly recommend it! -Christian Finn*, M.Sc., thefactsaboutfitness.com, Northamptom, United Kingdom **(Results may vary)
"This program was recommended to me by someone I met at the gym and since I have started it I have convinced 6 other people to buy the book and get with the program that works." - John Von Mann**(Results may vary)
"I love your book; it is already transforming my life. After 30 years of aerobics, I had a really hard time believing you at first, but my days of 90 minute cardio days are behind me. Thank you so much!" - Annie Wagener**(Results may vary)


"I can't say enough about how great our Vision Fitness® treadmill is. My wife and I purchased it to start getting a little exercise. Upon learning about the SPRINT 8 Challenge, we decided to dig in and take our health more seriously. The challenge was a lifesaver because our baseline labs showed my cholesterol was 302! In an effort to avoid going on cholesterol-lowering medication, I did everything I could. In less than six weeks of using the SPRINT 8 feature daily, eating healthier foods, and taking vitamins and L-glutamine [recommended in Phil Campbell's book], my cholesterol went down 84 points… I lost 20 lbs. and feel great! I've told many people about my treadmill, and my brother-in-law is ready to buy! My wife, my doctor, and I are all amazed with the results of your program." - Daniel Edwards* of Shawnee, Kansas **(Results may vary)

"I'm glad I bought this book. Even with bad knees I found that I can still do the Sprint 8 Workout on the bike at the gym. In a few short weeks, I lost 10 pounds. And I didn't have to diet." - Dr. Steve Kail, DDS **(Results may vary)
"I am no doubt in the best shape of my life at 39 years old. The addition of the weight plyos techniques to my workout enabled me to increase my bench by 20% in just 6 weeks. I receive compliments daily on my newfound physique. Bring on Age 40." - Jeff Mitchell*, President Benefit Consulting Services **(Results may vary)
"This is a realistic exercise program that could benefit all people to improve their looks, slow down the aging process, and feel better about themselves. This book contains worksheets of sample exercise plans, depending on your ability." - MyShelf.com Book Reviewer, Jen Oliver**(Results may vary)
Writer's Digest Review
Ready, Set, Go! Synergy Fitness for Time-Crunched Adults is a great title. In this day, most adults fall into the "time-crunched" category and are concerned with staying fit within their time limitations. I was hooked by the cover!
Phil Campbell's experience in the area of fitness is apparent. He has a tremendous amount of knowledge about the body and the effects of exercise on the body. His plan is outlined simply and reinforced by charts and tables. The exercises and weight training skills he suggests for the reader are outlined and illustrated with photographs. He uses models of all ages and fitness levels, which is an encouragement to the beginning fitness seeker. At the end of the book is a workbook section, allowing the reader the opportunity to put the plan into action with a minimum of thought. He or she can easily keep up with progress by using these charted pages.
The information is divided into small chunks, which help with understanding the relationship of the exercise to the body's metabolism. **(Results may vary)
Share your results with the Ready Set GO Fitness program.
We would love to hear your story. Please email us at info@readysetgofitness.com

Harvey Fischer


Letter from Harvey Fischer,
Age 50

I was getting ready to turn 50, and I was not in good shape. I didn't have energy to exercise. I felt bad, and I was overweight. I tried numerous fitness programs that were big on promises, but none worked.

Then I read Ready, Set, Go! Synergy Fitness by Phil Campbell and it made sense, and I knew this program would get results.

I made the Eight Week Commitment, exactly one year ago. For the Sprint 8 Workout, I could only walk initially and did the weight training at the local YMCA.
ONE YEAR LATER - I feel better at 50 than I did at 40. My progress with the Ready, Set, GO plan has been beyond my wildest imagination! Not only have I lost weight, I have been able to enter several masters competitions that you recommend. I've completed six 5K runs, five triathlons. I finished 1st in my age group in the 1 mile run and 2nd in the 800 in a Masters Track & Field event.
Ready, Set, Go! has been my guide to better health and it has help me to become an athlete again. The Sprint 8 Workout and interval training workouts in the book have not only helped in running, but in the other areas as well.
I do the Sprint 8 Workout with swimming and biking and it has been the biggest factor improving my triathlon times. My PR (Personal Record) for the sprint is 1:09 at Wet Dog Triathlon. My next goal is to compete with my son John, age 16, in the Gulf Coast Half Ironman in May.
Thank you for putting all the information in one book. Most of all, thank you for helping me get my health back. I recommend this book to everyone. Sincerely,
Harvey Fischer*, triathlete **(Results may vary)

"I am noticeably stronger, faster, and more flexible since I implemented the Ready, Set, Go plan for fitness and health. I hold author Phil Campbell directly responsible!
I bought many copies of his book for family, friends and players and know I'm giving a valuable gift." - Tom White*, Publishing Consultant & Basketball Coach

"I want to take the time to tell you how much I enjoyed the book. You were able to take complicated subject matter and reduce it into layman's terms. I am 38 years old and have been exercising for two years on a regular basis. I couldn't agree with you more. I used to worry that maybe my running was impeding muscle growth. However, reading your book has convinced me about the benefits of anaerobic exercise---Thanks." - Joseph Donofrio, New Jersey **(Results may vary)
"As a competitive water skier, I've been doing the Synergy Fitness Sprint 8 for years. I didn't understand why I've stayed in good shape and maintained a low body fat percentage until I read this book. It tells you how to drop body fat and how to keep it off." - Robert Kail*, Age 40, Competitive Water Skier **(Results may vary)

From retired chiropractor
"Simple thanks are just not enough to explain how I feel about my signed copy of your book. As a retired Chiropractor, due partly to loss of physical function and inability to perform my job without pain, the topics hit home with a blistering realism.

I have not been able to even walk enough to get to an even minor aerobic workout for years. I have awakened during the night before, worried and knowing that physically my health was deteriorating. Weight gain issues and uncontrolled hypertension were waging war on my system internally and externally. I have gotten out of bed, put on my workout clothes, made a proclamation that I was going to walk regardless of the pain.
As devout as my convictions were, I physically failed miserably and could not even walk 50 yards without sever back and leg pain. Surgical options, due to the severity of my diagnosis and the failure rate of the procedure that I need, were not realistic for me unless I became completely disabled and unable to ambulate.
I started the program, and in addition to altering my diet, I have virtually eliminating refined sugar, and I have tiptoed into your program over the last 3 weeks. I am truly amazed at the results in such a short period of time and I have just barely scratched the surface.
While my level of improvement doesn't even begin to approximate that of a modestly fit individual, it is miraculous when compared to my beginnings. I have lost about 15 lbs. My joint pain has virtually been eliminated except for some occasional hip and leg pain that occurs when I stand in one spot for a protracted period of time (generally a sign of spinal stenosis). My energy level has skyrocketed; my resting pulse rate has slowed 20%. I just feel better physically and mentally. - Wayne Key **(Results may vary)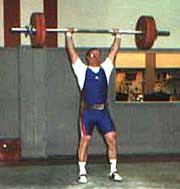 Ron Summers, age 51, finishes a 286 lb clean & jerk and places second in a National Masters Olympic Lifting Championships. He is a three time national masters shot put champion.
"Ready, Set, Go! is a great book for anyone wanting to improve their fitness and health.

The book is loaded with useful information and the programs are clear and easy to follow.

As a weightlifter and thrower this book made me take a step back and reevaluate my total fitness program and add some new components."
- Ron Summers* **(Results may vary)

See our Secure Shopping Policy here

*Testimonials are individual experiences reflecting personal experiences of those who have used our information and programs. Individual results vary.. More info on disclaimer here