After reviewing the research concerning L-Glutamine and how it impacted growth hormone release, the first edition of Ready, Set, GO! Synergy Fitness suggested that taking 2 grams of glutamine before training may, in the future, become a wise fitness improvement strategy.
Well, the research continued, and in the second edition, "glutamine before training" became a Ready Set Go Fitness strategy.
Note: sometimes glutamine is confused with glucosamine that's used for joints/cartilage.
Personally, I take 2 grams of glutamine before training. And I know many that do the same and get great results.



Glutamine research highlights
Glutamine may have a significant impact on the immune system. In clinical situations and during high-intensity exercise, L-Glutamine has been shown to decrease the incidence of infections, (The relation between glutamine and the immunodepression observed in exercise, 2001, Castell).
Glutamine has a positive impact on heart disease. "Glutamine may be cardioprotective in patients with coronary heart disease," (Is glutamine beneficial in ischemic heart disease? 2002, Khogali).



Two grams of L-Glutamine gets the job done
These studies follow earlier research that shows only two grams of glutamine will significantly increase HGH growth hormone. Many protein recovery drinks sold today contain up to five grams of glutamine - so two grams may be considered a small dose.
Earlier research by Dr. Welbourne at LSU Medical Center shows that 2 grams of glutamine is effective in increasing HGH, "These findings demonstrate that a surprisingly small oral glutamine load is capable of elevating alkaline reserves as well as plasma growth hormone," (Increased plasma bicarbonate and growth hormone after an oral glutamine load, 1995, Welbourne).
Researchers report, "All cells require glutamine as a nitrogen donor as well as an energy source for cell-specific functions," (The glutamine/glutamate couplet and cellular function, 2001, Welbourne).


What does this mean to you?
High-intensity training significantly reduces the body's supply of glutamine, and this needs to be replaced. The pre-workout strategy of filling up the glutamine fuel tank before training may do much more than simply help to replenish a nutrient that is used during exercise. Glutamine may help facilitate the release of exercise-induced growth hormone.
What I hear most from those who use glutamine as a pre-training strategy, "I feel stronger at the end of a workout," (or at the end of a tennis match, a round of golf, or a long run).



The take home
L-Glutamine is a powerful supplement and has many wonderful benefits. But there can be drug interactions with glutamine supplements and some forms of chemotherapy.
You can check possible side effects of supplements at GNC HealthNotes. And it's always a good idea to let your physician know what supplements you are taking.
Have a great day!
Phil Campbell, M.S., M.A., FACHE
Author Ready, Set, GO! Synergy Fitness
National Institutes of Health research cited in newsletter,
Research Summary
Research Summary
Research Summary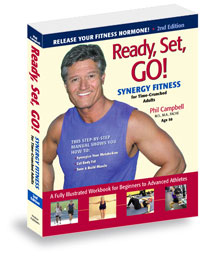 Ready, Set, GO! Synergy Fitness - 2nd Edition

The comprehensive fitness training guide, 384-pages,
300 photo-illustrations,
$19.95

Ordering information here

Order an autographed copy online
toll free - 1 (866) 565-3311