Senior Sports Links
National Senior Games - State contact information

Millennium Senior Games - In 2005 you'll want to be in this Senior Games competition. When you see this Web site, you may even want to move there!
Tennessee Senior Games - Lead by Christine Dewbre and Teresa Prinzo. Excellent Web site
Austin, TX Senior Games - Lead by John Berlet, this is an excellent Web site.
Fitness by Gordon - Maturity can be a banquet when fed by exercise!

fitnesspast50.com - Informative Website

50 Plus Fitness Association - Great info

50something.com Great Web site for those over age 50

---
Highly recommended book on speed development
click cover for details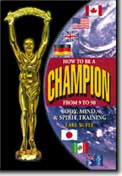 Performance-boosting Speedsoles - Recommended
Exergenie.com -The Trainer Custom Series Exer-Genie Training Systems. Note: Excellent sports training equipment.