Increase HGH Free ... by 530%
through specific types of fitness training!
Learn how here.
"The welcome message of Campbell's book is that you can multiply your body's supply of HGH safely and naturally." - Art Carey, Philadelphia Inquirer


"I absolutely guarantee you will NOT be able to put this book down."
- Thomas Woodrow, What You Need to Know About Running and Jogging

As seen in
"I now understand why even the best diet and regular weight lifting weren't working.
With a few tweaks to my workout program (and no more time involvement),
I have twice the energy and feel more toned than I've felt in a long time."
- Nan Allison, MS, RD, Licensed Nutritionist& Author of Full and Fulfilled
"I love this book - it's brilliant - very readable - and it all makes sense!" - Dickon Weir-Hughes, Deputy CEO & Chief Nurse, The Royal Marsden Hospitals London,
United Kingdom


"5 Stars, Superbly presented
Profusely illustrated
Practical and Effective
Highly Recommended!"
- Midwest Book Reviews

"This is the fitness program I do personally,
and I highly recommend it." - Dr. K Atkins

"I was amazed at the results I achieved in body flexibility, strength and endurance. Most of all I was able to accomplish this with a very reasonable time investment. This fitness plan is practical, scientifically-based and meets my goals for good health now
and into the future." - Dr. Keith Williams, Obstetrics and Gynecology


Money-Back Guarantee! Nothing to Lose ... except bodyfat!!

For less than a half hour session with a personal trainer, you'll get
384-pages of power-packed information with 300 photo-illustrations for $19.95

And,if you don't discover new concepts that help you reach your fitness goals,
just return the book and we'll send you a full refund, no questions asked!
This offer applies to orders placed direct with Pristine Publishers Inc on this Web site

Order an autographed copy here


"I just finished your new 2nd Edition today. It is a very informative book and an easily understandable book at the same time. Great job!!
You hit a homerun!! I truly believe millions will benefit from your efforts." - Jeff Jackson, Certified Fitness Trainer, Peak Performance Personal Training, Michigan www.peakppt.com


What you'll get in the new 2nd Edition
You'll discover how to release your fitness hormone and tap into the most powerful body fat cutting, muscle toning, energy creating, anti-aging substance known in science.

Your body makes it - releasing it has been the secret -
until now.
Author Phil Campbell, age 50, uses 300 photo-illustrations, 384 pages, and 160 research studies to show how to release this powerful hormone with specific exercises, a few inexpensive supplements, and adequate deep sleep.
Discover how to optimize the two-hour, post exercise window of opportunity to accelerate body fat reduction through Synergy Fitness techniques. There are
five levels of fitness programs for
beginners to advanced athletes.
"Unlike authors of similar books, Mr. Campbell is not trying to sell you anything else except a longer, healthier life. A terrific concept, easy read, and a welcome addition to a health and fitness library filled with more style than substance.
This is the real deal." - Keith Murphy, NBC Sports Director, Des Moines

"If you are SERIOUS about wanting to beat aging and get or stay in the best shape, and are noticing that age is beginning to take a toll, this book could be very helpful.
I predict Campbell's book will become the next health & fitness bestseller."
- Joanna Danema, Amazon.com TOP 10 Reviewer


BOOK REVIEW
by Renee Kennedy, Editor NutriCounter Health News
"I couldn't put it down.
If you have reached a weight loss plateau, Phil Campbell's new book may be exactly what you need to pump up your fitness routine. Even if you don't know the first thing about exercise, this book will help you map out a fitness plan.
The book is wonderfully geared to adults of ANY age. Phil is 50; he has proven that you don't have to be 20 years old to get healthy and look fantastic.
Some highlights of the book include five different fitness plans, the Sprint 8 Workout, and pictures of the recommended exercises. He also gives specific advice on how to keep your fitness routine working for you even after you've stopped working out.
Phil backs up everything he says with references to scientific research. There isn't one bit of advice that he hasn't backed up with a research reference. He has done his homework and it shows.
I'm using Phil's second level fitness plan and applying much of the advice in his book. (I've applied his plan to my home workout - I've never set foot in a gym.)
I have discovered that I actually do have muscles in my abdomen! Write to me and tell me that his Sprint 8 Workout doesn't leave you totally exhilarated!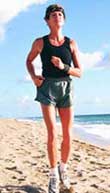 "Campbell brings this scientific proof to readers in a clear and concise way, explaining clinical studies on nutrition, energy production and exercise - showing how Synergy Fitness makes sense, why it works.
Now, with Phil Campbell's help, I understand how to work smarter, not just harder - how to use and understand science to build a tactical defense in my war against aging."
- Marilyn DeMartini, national fitness magazine writer - See Foreword here
See the Foreword to the 2nd Edition click here

"Phil Campbell's book focuses on Synergy Fitness, ten strategies to help get you in peak condition. The strategies are based on raising growth hormone (GH) levels naturally through specific activities such as anaerobic training, "slow wave" sleep, healthy eating, and strength training. His approach is appealing. Each chapter is short and concise, providing detailed information in a casual tone."
- Paige Waehner, About.com Exercise Guide

"I'm glad I bought this book. Even with bad knees I found that I can still do the Sprint 8 Workout on the bike at the gym. In a few short weeks, I lost 10 pounds.
And I didn't have to diet." - Dr. Steve Kail


"To look at Campbell today, at 50, you might mistake him as a poster boy for liposuction. But he found a natural way to trim down to a rock-hard 200 pounds from 235. What's more, he eliminated his dependence on cholesterol drugs and set the somatopause meter
spinning into reverse." - Jack Williams, San Diego Union Tribune

"My weight has dropped and seems to have leveled out at 9 stone, (which seems fine, I'm 5' 6'). However, the most noticeable difference is that my shape is starting to look healthier and "sleeker" and my muscles are beginning to tone."
- Sally Somerville,
Channel Islands, United Kingdom
"Campbell presents a new regimen which focuses on high-intensity training. Such training, combined with proper sleep and diet, can spur the pituitary gland's "pulsing" output of HGH. Campbell calls such HGH goosing a natural anti-aging regimen. And he stresses natural."
- Al Valente, President FitCommerce.com

"This is a realistic exercise program that could benefit all people to improve their looks, slow down the aging process, and feel better about themselves. This book contains worksheets of sample exercise plans, depending on your ability.
"
- MyShelf.com Book Reviewer, Jen Oliver
"Scientifically researched and effective fitness strategies to maximize your Growth Hormone levels. Complete with hundreds of exercise photographs and references, sound nutritional advice, fitness plans for 5 different levels of fitness, this book is rock solid, ...just like Phil Campbell's build. Here's someone that practices what he preaches."
Stefan Angheli, CSCS, Editor, healthfitness.com.au, Australia


Book Review
Ready, Set, GO! Synergy Fitness
by Dwayne Hines, II, CPT, national fitness writer


This book is a total departure from the traditional approach to fat loss? Phil Campbell's blockbuster new book, Ready, Set, Go! Synergy Fitness takes an effective stab at the prevailing wisdom in the fitness world.

Ready, Set, Go! Synergy Fitness is a revolutionary concept for fat loss and lean muscularity. Campbell focuses on the key area of growth hormone release through two familiar channels - diet and exercise, but via unconventional means.

Campbell acknowledges the effectiveness of growth hormone intake via chemical means, but also points out the dangerous side effects and offers a better alternative - using specific dietary and exercise practices to manipulate growth hormone release in a natural manner. It is anaerobic exercise that will promote the release of the Human Growth Hormone in a manner that works with, not against, the health of the body.

Ready, Set, Go! Synergy Fitness is a radical new approach to shaping the ultimate physique. It contains the program for drastically changing your body for the better.

The book is also full of various weight training exercises, plyometric training routines, sprinting and stretching exercises to provide the body with a total package. The book contains over 350 pages and sells for $19.95 in most major stores.

The average Amazon book review customer ranked the book as a five star rating (highest possible). If you are looking for an effective way to burn off fat and boost muscularity, grab a copy of Ready, Set, Go! Synergy Fitness.
"At my age of 55, I have felt frustrated by a lowered metabolism and energy level. The growth hormone release was new information for me. Acquiring an understanding of the HGH release has made a significant difference in my weight loss success. Not only do I feel healthier, but I have lost those 20 lbs in just 10 weeks!" - Pauline Blanchard, Salt Lake City, Utah


"It seemed as I got older, positive results were impossible to achieve, impossible that is, until I began following the step-by-step Synergy Fitness program. This plan can turn back the clock for anyone. It has changed my life both physically and mentally!"
- Detective Captain Mickey Miller, Metropolitan Nashville Police

Mickey Miller before 90 days later

"The next fitness revolution is here and it's called the 2nd Edition of your book. I was finishing my masters in Exercise Science when Aerobics fired the shot that started the world running and ushered in the "Cardio" revolution. Synergy Fitness is destined to change fitness training as we know it today." - Alvin Hoover, Hospital Administrator, South Carolina


"This book is brilliant!" - Mike Gotfredson, President - Road Runner Sports


"This is an excellent fitness workbook for anyone... Along with photos of people performing the actual exercise, there are explicit descriptions of how the exercise should be done correctly and why. I've already used this book to add to my usual exercise routine. I think it's improved my overall performance dramatically! I would recommend this book for everyone
young and old!" - Lisa, Managing Editor, BOOK REVIEW CAFE


THIS STEP-BY-STEP MANUAL
has 300 photo-illustrations
on 384-pages to show you how to:

Synergize your metabolism
Cut bodyfat & lose weight
Tone & build muscle
Create energy
Look years younger
while achieving optimum
health & fitness


"I started the Ready Set Go program 10 weeks ago at Level 2 and saw results after the 2nd week. After being committed to the program for 8 weeks I had rescultped all the major muscle groups. I am now on the 2nd week of Level 4 and the program continues to challenge me and push me to the limit.
This program was recommended to me by someone I met at the gym and since I have started it I have convinced 6 other people to buy the book and get with the program that works. I will sum this up buy saying thanks for helping me to continue to take it to the next level." - John Von Mann



"Campbell's qualifications make his routine an easy sell. The author is a twenty-year veteran in the healthcare field, including a stint as a division president in charge of eight hospitals. He is also an accomplished athlete who holds several USA Track and Field Masters titles as well as a black belt in Isshinryu Karate" -Forward Reviews





"Ready Set Go Fitness" is a real breakthrough in the health industry. His recommendations are sound and exercise routines are extremely effective. I highly recommend his book to all our members, as well as anyone looking to get the best
possible results from their workout." - Chad Tackett, CPT Fitness Expert


"Synergy Fitness works! Phil Campbell has taken the lead in training techniques,
general fitness and nutrition." - Dr. L. Schrader, Orthopedic Surgeon


"I have been athletic all my life, but with the addition of sprint 8 and weight plyos, I am no doubt in the best shape of my life at 39 years old. The addition of the weight plyos techniques to my workout enabled me to increase my bench by 20% in just 6 weeks.
I receive compliments daily on my newfound physique. Bring on Age 40."
- Jeff Mitchell, President Benefit Consulting Services, Inc.



Book Review


"Ready, Set, Go! Synergy Fitness for Time-Crunched Adults is the fitness book for us middle-aged baby boomers. It focuses on the natural re-energizing of our bodies growth hormone production, which is critical for anti-aging.

The instructions take into account all levels of fitness and non-fitness. It is sensibly written and has an immense amount of research data to back up everything it advises.

Where this book is different from many is in its focus on the intensity of exercise which is required to see results and in the importance of planning and timing. This guide takes a whole-body and a varied type-exercise approach to fitness.

The author is a highly qualified expert who gives out trustworthy, knowledgeable guidance. This is like having your own personal trainer."
- Bob Spear, Chief Reviewer and Publisher Heartland Reviews

NOTE: Bob Spear is a nationally recognized self-defense expert. He is a 7th degree black belt in Hapkido, and has presented at the Olympic Scientific Congress.
"I made the Eight Week Commitment, exactly one year ago. ONE YEAR LATER - I feel better at 50 than I did at 40. My progress with the Ready, Set, GO plan has been beyond my wildest imagination! Not only have I lost weight, I have been able to enter several masters competitions that you recommend in the book.
I've completed six 5K runs, five triathlons. I finished 1st in my age group in the 1 mile run and 2nd in the 800 in a Masters Track & Field event."
- Harvey Fischer, age 50



"I am truly amazed at the results in such a short period of time and I have just barely scratched the surface. I have lost about 15 lbs. My joint pain has virtually been eliminated except for some occasional hip and leg pain that occurs when I stand in one spot for a protracted period. My energy level has skyrocketed; my resting pulse rate has slowed 20% and I feel better physically and mentally."
- Wayne Key, retired chiropractor



"I am a mother of three children and lately I feel as though I've hit a plateau. I now have more energy and I find it easier to keep my body fat percentage where I like it. I have high standards for myself and 'Ready, Set, GO! is helping me reach them."
- Annie Swider, (nationally recognized Fitness Expert, model, and Certified Personal Trainer)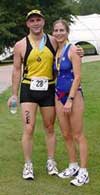 "I have read every book on training for triathlons, but it was not until I started doing the Synergy Fitness program that I started to reach my full potential as an age-group triathlete." - Dr. Tim Berry, Family Physician and triathlete

Dr. Tim Berry, family physician, and Dr. Debra Berry, pediatrician, after a triathlon
"I enjoyed the read. You did a massive amount of work and are to be congratulated. This is a very practical book for individuals to stay fit and stay healthy."
- Dr. Paul Laursen, School of Human Movement and Sport Science, Australia (Dr. Laursen is one of the leading Sports Science researchers in the world)